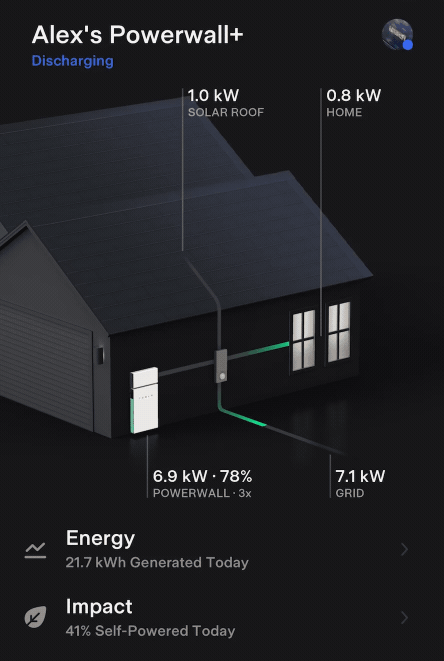 I'm the Product Manager of the Tesla App for Energy Products. Together with an outstanding semi-remote team of product, engineering, telemetry, cloud, support, digital experience, and legal collaborators at Tesla, we released the v4 version of the Tesla App in 2021. In true Tesla style, the app and products steadily get better with updates each month too.
Note: I don't speak for the company. This is what I'd talk about if I was sharing the app and my work with friends.
Home Screen Power Flow
The most interesting challenge with Solar and Powerwall is understanding your home's power usage story with an easy-to-read visualization. We built a 3D engine into the app to visualize the most popular and most used screen of the v3 app, Power Flow. Power Flow shows the most contextually important information about your home—"Where is my power coming from and going to?"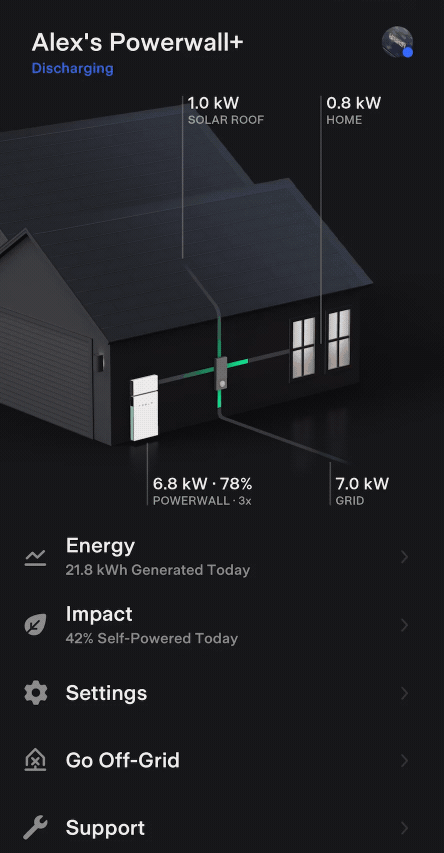 Go Off-Grid
Go Off-Grid easily demonstrates the magic of Powerwall. (This is my favorite feature that I've had the pleasure to lead as a Product Manager from start to finish.) It's 50% party trick and 50% training tool. When you tap "Go Off-Grid" from the Tesla app, the physical relay between your home and the grid opens, and Powerwall starts powering your home from the battery—simulating a full grid outage. Powerwall owners can use it to understand how long they'll last off-grid with their lifestyle and learn if they need to change some behavior to extend their time off the grid. Or, you can use it just to show off to friends. The app also shows a backup time remaining: it estimates how long your Powerwall will last with your current power use.
Graphs
Graphs in v4 are simplified to only show one energy component at once. So if you're looking at your solar, you can see that your solar went to your home, Powerwall, or the grid. Or, if you're looking at your home, you can see precisely when your home was powered by solar, Powerwall, or the grid. And so on.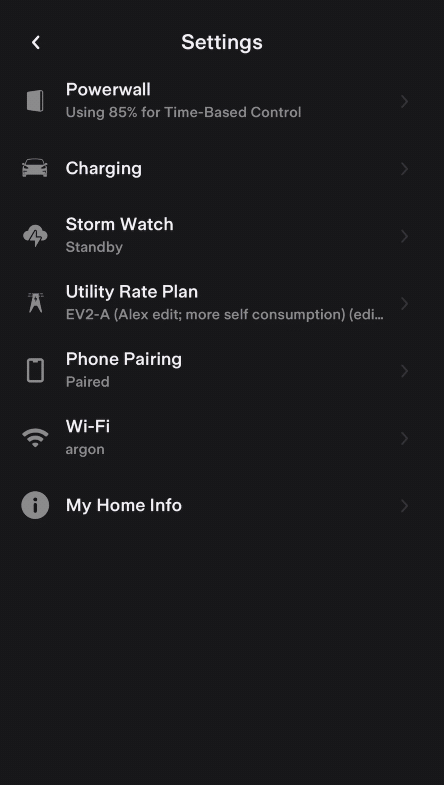 Settings
Settings is a passion area for me. Powerwall and energy products don't have implicitly understandable actions. When you buy a new phone, you have some baseline expectations—you know it can make calls and send texts—we know this through the past context of phone ownership. When you buy a Powerwall (or any home battery), what are the things you expect it to do? And how do you know you've set the correct settings to achieve your goals? And, are some settings even necessary? The settings for energy products in Tesla App focus on your home, not just the products you own, and we've been writing settings entries to explain what each setting does and why you want to pick a specific option. The goal is to have the app teach you how to use your products as you're exploring.
Constant Iteration
Tesla's product ethos is to experiment and iterate with software, make things more simple, take away unnecessarily complicated actions, and improve the products over time. Since the release of v4, new features have been released every month. The team listens very closely to customer feedback. The v4 app is a perfect platform to iterate and improve the Tesla Energy experience—features ship more rapidly than with the v3 app. Tesla is always excited to have new folks who want to be a part of accelerating the world's transition to renewable energy.
Tesla App
Tesla, Inc.
2021
React Native, Godot